Model-maker continually adopts new additive manufacturing technologies to meet market demands
July 28, 2019
Posted by:

Chase Gregory

Categories:

Emerging Technology, Manufacturing, NSG Consulting
Aerosport Modeling "pumps up" its 3D printing capabilities to meet market demands.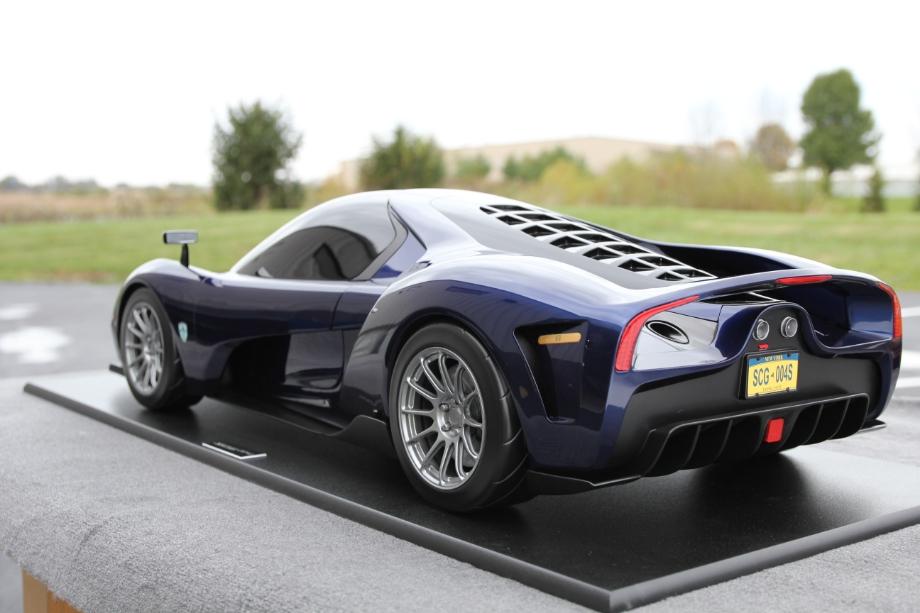 This one-fifth-scale model of the Glickenhaus 004S racecar was made on Aerosport Modeling and Design's UnionTech SLA and HP MJF 3D printer.
To achieve long-term success in business requires a company to adapt to change, often by adopting technologies that facilitate that change. Aerosport Modeling and Design has done that throughout its 23-year history.
The company makes prototypes, appearance models, and working models; machines and reverse-engineers parts using scanning and 3D printing; and designs and builds check and assembly fixtures. It also offers niche services like blow molding, hand sculpting, and rotocasting—a technique for thermoforming resins.
Aerosport initially focused on producing appearance models and urethane castings, said company founder and principal Geoff Combs. Additive manufacturing (AM) has been part of the mix since the company's inception, although it subbed out the stereolithography (SLA) work it needed done in the early days. "I would get my SLA parts from another shop, then I would finish them and make our silicon molds and paint them," Combs said during an interview at the company's facility in Canal Winchester, Ohio.
The business, which Combs started in his basement in 1996, began to grow, and in 2001 he bought his first SLA. Then he bought another. "We used the SLAs mainly in-house for all of our stuff that we did, including building molds for injection molding," he said.
As 3D-printed prototypes and parts grew in popularity among manufacturers in the mid-1990s and into the 2000s, Aerosport began selling SLA parts directly to some of its customers. Eventually, though, demand began to plateau. "3D printing was stagnant for a while," said Combs. Then about four years ago, he started to see orders coming in for a wider variety of additively manufactured parts. "When I saw that 3D printing was really going to grow again, we started pumping up our 3D printing [capabilities]."
Holding On
Today Aerosport Modeling operates seven AM systems: one UnionTech RSPro600 SLA, three 3D Systems SLAs—one 3500 Pro and two Vipers—a Carbon M2, and two HP Multi Jet Fusions (MJFs).
One of the recently added MJFs illustrates how the shop implements new technology to improve its products.
Aerosport designs and builds fixtures for a well-known jewelry manufacturer that uses the devices to hold rings and necklaces during laser engraving and etching operations. Some of the fixtures accommodate 100 or more pieces.
The shop 3D-printed test fixtures for holding the jewelry on an SLA, but the material wouldn't hold up in a production environment, said Combs. The shop machined the production fixtures from Delrin or some other thermoplastic.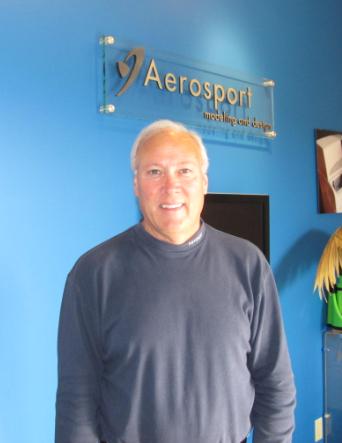 Aerosport founder and principal Geoff Combs started the company in 1996 making appearance models.
The shop found, though, that it could 3D-print suitable production fixtures on the MJF. The technology allows building more intricate parts than an SLA, said the company's prototype specialist, Steve Clark, because it eliminates the need for supports. "Since the parts are built in a powder bed, they are completely self-supporting."
Another reason has to do with the material used in the HP: PA12 nylon. Its "flexibility is much higher than the prototype materials in the SLA," explained Clark. "This allows us to make many different snap fixtures, where the user can have parts put in and out of the fixtures hundreds or even thousands of times without fail.
"Printing the workholders has proved to be a big time-saver, too, compared to machining. "Before, we'd have to machine each one of these little pieces that would go on the fixture to hold each [piece of jewelry], and now we can run the whole thing on the HP," said Combs. "Instead of taking five or six or eight or 10 days to machine all these little parts, we can print the entire fixture as one piece overnight."
Aerosport also builds assembly fixtures and go/no-go gauges for the automotive industry. It's common for customers to ask for 3D-printed fixtures, partly because of the current buzz around AM. And, according to Clark, "we have done some fixtures using 3D-printed parts. It usually depends on the application and time constraints. Often, it makes more sense to machine them out of (RenShape)," a machinable polyurethane board from Huntsman that can be used for production fixtures.
For purposes of comparison, Combs said an FDM (fused deposition modeling) printer might take 20 hours to build a fixture. "I can machine it in five. That being said, it's way easier to just design the fixture, throw it on the printer, and walk away from it. Two days later, you come back and there's your fixture."
He added that the company doesn't use a lot of 3D-printed fixtures in its own machine shop, although sometimes it 3D-prints test models of fixtures before machining them.
Melding Old and New
Early last year, Aerosport Modeling built a much different product than a fixture for an automotive customer. Scuderia Cameron Glickenhaus (SCG), an American builder of racecars and limited-edition luxury sport cars, contracted the Ohio shop to produce a one-fifth-scale model of its 2019 SCG 004S "supercar."
Aerosport normally would have machined the 36- by 15-inch model. But when it met with SCG representatives to finalize details about the job, the shop's CNC department was jammed with orders and the decision was made to 3D-print the model car. Aerosport and SCG reworked the design for AM. The shop's RSPro600 SLA and HP MJF printed most of the parts. The RSPro built the windows, wheels, and brake rotors from Somos EvoLve 128, a resin well-suited for producing fine details. The HP handled the body panels, chassis, and tires, making them from PA12 nylon.
All the sections were strategically subdivided to maximize build space. Postprocessing included surface finishing and painting.The project took three months, of which five weeks were devoted to printing.That's a very short period of time to produce a model, said Combs, who learned about model-making long before 3D printing existed.
He recalled growing up in Dayton, Ohio, the former home of NCR Corp., inventor of the electronic cash register. "I had a friend whose dad was a model-maker at NCR," he said. "To do a prototype back in the day, it would take a guy two or three months. He'd make it by hand.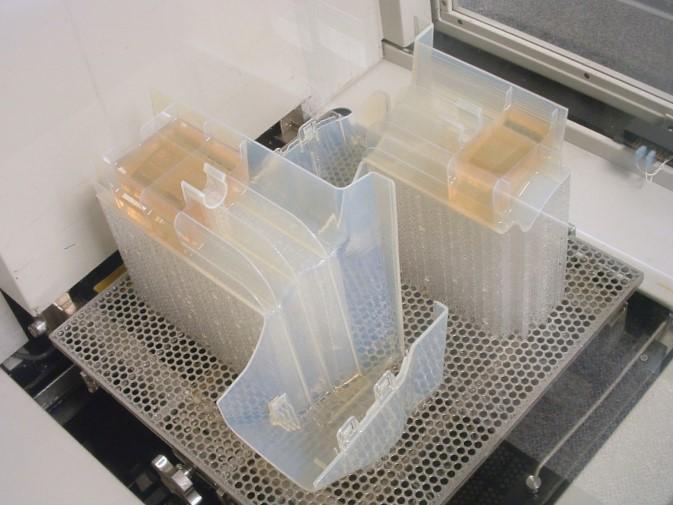 When Aerosport Modeling was founded, it subbed out the additive parts it needed. Now the Ohio shop operates seven 3D printers.
"But that trade is gone. They don't need it anymore because it's all done with 3D printing."
Combs, incidentally, learned to hand-craft models from a man who worked in the model shop at Wright-Patterson Air Force Base, outside of Dayton. He parlayed that experience into a job at a small design firm that needed a model-maker. He worked there two years then opened Aerosport Modeling, located a few miles southeast of Columbus.
Inconsistent Quotes
Issuing an RFQ to numerous 3D printing service bureaus can result in a widely divergent set of quotes being returned. In one case, a manufacturer put out an RFQ for an additively manufactured part, and there was a 300 percent difference between the lowest and highest quotes. The manufacturer then asked mold shops to bid on the same part and the low-high range was 10 percent. The company opted for molding.
"We see a lot of differences," Combs said of the jobs-bidding process. "Somebody will say, 'Hey, I had somebody that quoted me this part for 50 bucks, and you guys were 10 bucks. Or you guys are 100 bucks and they are 20.'"
One factor complicating the quoting process is the myriad changes to AM printers the past few years. For instance, some newer machines feature significantly larger build volumes than earlier-generation equipment. But, if the equipment is newer, higher machine costs will likely need to be built into any quote.
The goal of suppliers of 3D-printed parts is to have as many parts as possible in a build. "With an SLA," Combs said, "you might have 50 parts in a build. With the HPs, there might be 300 or 400 parts. That many parts on an SLA would have been $30,000 worth of parts back in the day. Now it's $3,000 worth of HP parts. That's why there's a lot of variations in quotes, and I think it will escalate."
He also believes AM equipment, materials, and software will continue to advance steadily and that Aerosport will keep on adapting and adopting technology that keeps it competitive.
The shop currently is working with an AM materials supplier, testing new materials. "We're their Beta site," said Combs. "It's an interesting process, and kind of cool to be part of."
https://www.thefabricator.com/additivereport/article/additive/model-maker-continually-adopts-new-additive-manufacturing-technologies-to-meet-market-demands