Crowded SEO World
May 28, 2019
Posted by:

Chase Gregory

Categories:

Advertising, Marketing, SEO, Small Business, Social Media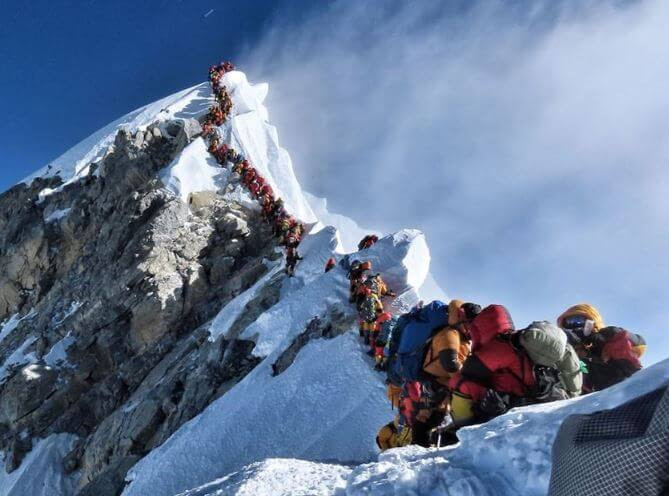 My question for you today is– What route will you find the most enjoyable to achieve the best online presence? And don't be greedy!
I read this headline in the Morning Brew(btw you should subscribe) "Traffic Jams Blamed for Everest Deaths"and after reading, I couldn't help but relate the death toll of climbers increasing because of the traffic to get to the top, to how businesses die because they can't compete against the business's that are fighting to get to the top of Google's Page 1. Even if they've done it before, some never make it back after a slip and fall.
I am sorry for the friends and families that have suffered over the loss of the climbers related to this story. There is sorrow in the air and we cannot forget that, but people need to chill out and work on a way around others to achieve the same goal of success or better. Some are slow but will get there, no need to push  them. And stop running people/business over! Loved ones are involved.
With so much new business growth in the world, every company is trying to climb to the top, no matter the industry.
And let me tell you…..IT IS HARD TO GET TO THE TOP(page 1 of Google) without paying for a jetliner(marketing company) or expensive helicopter to take you there with a warm blanket and champagne(Google Ads).
•You can possibly climb a different path with more challenges, but you can make it can't you?
•You can try a different mountain, maybe not be as tall, but still feels the same level of success?
•You can give up and be forgotten, go home and find an employer to utilize your skills?
•You can stand in line to get to the top, keep climbing with the pace around you, still enjoyable, and still successful?
Choices are all around us.
My question to you is, what route will you find most enjoyable?
Call, hit us up on Social Media or email your response 🙂
–
Chase
---
Photo by Nirmal Purja  From the article "Traffic Jams Blamed for Everest Deaths"
in this weeks Monday Brew.
What are you waiting for?
Subscribe and receive the latest news from Wall Street to Silicon Valley, daily.
Trust us, you won't regret it.
If your better world news and organic content about what's really going on in the world, they use this link to sign up for Morning Brew